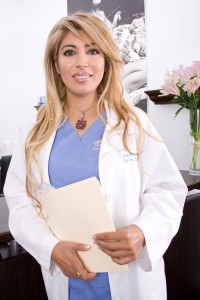 Laser hair removal is the most state-of-the-art and high-tech method in removing unwanted hair for longer and even indefinite periods of time. It is the only proven method available for easily removing hair from large areas of the body including the back, chest, legs and face. Laser hair removal is effective, precise and cost efficient.
How does it work?
If you're interested in laser hair removal, it's important, as a first step, to learn how it works. Laser hair removal technology is the use of an invisible beam of light and a constant source of heat that penetrates the hair follicle, disabling and then destroying it at its root while preserving the surrounding skin.
The procedure of removing unwanted hair is simply targeting the follicle and then directing the laser beam at its root. The hair removal process begins as the laser beam finds the hair follicle that it is targeting by first finding the melanin (the dark color of the hair).
Who can use it?
Laser hair removal works on all skin types but hair that is red or grey in color is almost impossible to treat.
What to expect?
It's comforting to know what you'll experience during and after your laser hair treatment sessions. During laser hair removal, you'll wear goggles so your eyes won't be exposed to light from the laser. At first, you will likely feel a stinging sensation, indicating that the laser has been activated. The treatment involves a series of impulses that cause prickling and a slight burning sensation. Your clinician may also apply a topical anesthetic to the area being treated to minimize discomfort, but most people can tolerate the procedure without it. Some people have likened the feeling to that of a rubber band snapping against your skin. You might also detect the smell of singed hair, which is nothing to worry about.
The procedure can take anywhere from a few minutes to several hours depending on the work you are having done. The smaller the area, the less time is involved, whereas a larger area, such as the back, may require several hours. After laser hair removal, you may experience brief swelling and redness. Typically, most people don't have much redness at all. Don't expect, however, that all the hair will fall out right away — it may take as along as two weeks after treatment.
For the most part, you can return to your normal routine immediately, though you should avoid direct sun exposure. Be sure to use sunscreen with a high SPF. You should avoid direct sun exposure and tanning booths for several weeks before and after treatment. Be careful when touching the treated areas: don't wax or pluck hairs, pick at the skin, or rub or scrub it. A gentle washing with soap and water is perfectly fine.
LaserAway opened its doors on the Sunset strip in Los Angeles in 2006 and became a hit among Hollywood celebs. LaserAway's reputation created a huge demand for laser and skincare services, and just 5 years later it has expanded to 10 locations throughout Northern and Southern California. LaserAway offers the most advanced laser hair removal and tattoo removal, skin care and anti-aging procedures available. Rather than raise prices, the owners have built more locations while continuing to recruit the industry's most elite medical staff. The result is a comfortable, casual environment…a safe and relaxing alternative to a typical and expensive doctor's office.
Jen Mathews is a social media marketing consultant for health and beauty brands, as well as Editor-in-Chief of My Beauty Bunny, a cruelty free beauty blog.
Incoming search terms: