Hair School
Throughout history, people have turned to hair stylists to help them transform their appearance, stay on top of trends, and find hairstyles that show off their unique personalities. The industry doesn't show any signs of slowing down, either. According to the Bureau of Labor Statistics, careers in hair design are expected to see an 8% increase between 2018 and 2028, which is a faster growth rate than most careers.
Skip to popular topics on this page: What Does a Hair Stylist Do? | What is the Difference Between Hair Stylist School and Cosmetology School? | How to Become a Hair Stylist | Getting Your License | Hair Schools by State
One of the most important steps toward becoming a licensed hair designer is attending a hair stylist school. In hair school, stylists not only learn to cut hair, but also gain the skills needed to execute a wide range of hair design elements. As a hair style student, you will also gain the experience necessary to pursue licensure and begin your hair stylist careers.
Learn More About Hair School and Careers
What Does a Hair Stylist Do?
Hair stylists offer a wide range of hair services to clients, including cutting, coloring, shampooing, and styling. As a hair stylist, you may also recommend products and help clients create an at-home hair routine to maintain good hair and scalp health. Hair stylists tend to work in salons, but they can be found in many other places. Hotels, spas, cruise ships, retirement homes, beauty schools, and media studios often have hair designers working on site.
To leave clients feeling good about their hair and their appearance, hair designers must have experience with a variety of hairdressing tools and techniques. Hair stylists are often proficient with clippers, scissors, razors, and electric styling tools, and are experienced in mixing and applying hair color, putting in weaves and extensions, clipping smooth fades, and executing a range of styles for different occasions. Stylists may also perform chemical and heat treatments, like perms and relaxers.
Technical proficiency is only one aspect of being a successful hair stylist. Stylists should also be able to think creatively to execute looks that satisfy themselves and their clients alike. Taking input from clients and applying it using a combination of technical skills and creative thinking is a critical task that hair stylists perform daily.
In some instances, stylists must use tact when a client's wishes cannot be met exactly as described, will be difficult to maintain, or may not have a flattering result. Great hair designers do their best to pick up on the most important elements of their clients' requests and incorporate them into flattering looks. This means hair stylists are also sharp listeners, critical thinkers, and effective communicators.
Moreover, hair stylists are friendly professionals who have their clients' trust and often maintain a certain level of friendship. Hairdressers provide excellent customer service along with a safe, clean, and welcoming environment for their customers.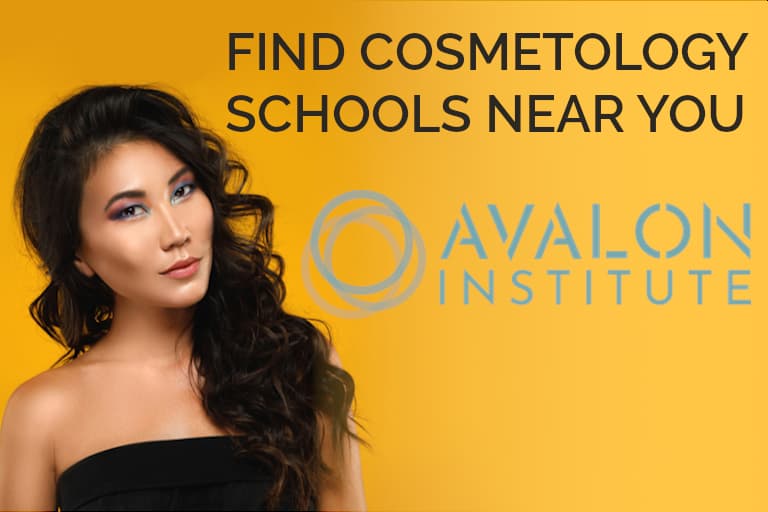 sponsored content, school availability varies by location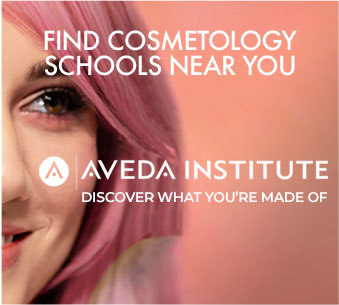 sponsored content, school availability varies by location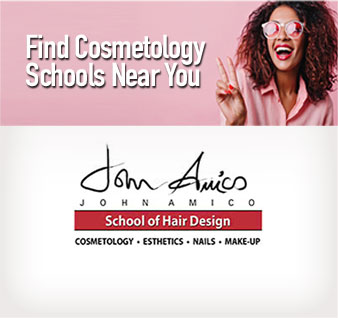 sponsored content, school availability varies by location

sponsored content, school availability varies by location

sponsored content, school availability varies by location

sponsored content, school availability varies by location
What is the Difference Between Hair Stylist School and Cosmetology School?
To become licensed, you must complete a training program approved by your state's cosmetology licensing board. While some states have approved programs geared specifically toward hair design, most hair stylist students will go through a cosmetology school to get the necessary training for hair styling licensure.
Hair designers who go to cosmetology school will not only take hair stylist courses; they may also become proficient in nail technology, makeup, skincare, and other beauty services. With this training, hair stylists can test to become licensed cosmetologists, which will allow them to practice hair design as well as other beauty services. Hair designers with cosmetology licenses can also undergo additional training and testing to gain credentials in specific hair design concentrations, like coloring or styling.
How to Become a Hair Stylist
Hair stylist training programs and careers are multifaceted and varied, but becoming a hair stylist can be a fairly straightforward process. Specific steps vary by state, but as a prospective hair designer, you can use the following breakdown as a guide for planning your hair design school and career path.
Meet the minimum enrollment requirements for your hair stylist school.
The basic requirements for admittance to a hair design school can vary from state to state, but generally you need to meet age and education requirements and pass a background check.
Enroll in a state-approved hair design program.
Entering hair stylist school is an essential step in becoming a licensed hair stylist. Because states have different requirements for hair design licensure, you should check with your state licensing board to ensure your hair stylist school will prepare you for your licensure exam. Refer to our website to learn about cosmetology and hair design licensing requirements for each state.
Complete your hands-on training hours.
You will learn many hair design essentials through observation and reading, but it's through hands-on practice hours that you get to hone your skills and feel what it's like to be a professional hairdresser.
Pass your state licensure exam.
After completing hairdresser school and the required training hours, you can sit for a state-administered hair stylist licensing exam. Upon passing your exam, you will receive your state license and can begin your professional hair design career.
What Are the Requirements for Enrolling in Hairdresser School?
After doing some research about how to become a hair stylist and deciding that a hair design career is right for you, the next major step is to enroll in a hair stylist school. The details of this process can look different based on where you live and which school you want to attend, but there are general minimum requirements that you should expect to meet before beginning your hair stylist program.
1. Meet the minimum age requirements for your program.
Hair stylist schools typically require students to be between 16 and 18 years old at a minimum.
2. Earn your high school diploma or GED.
A high school diploma or equivalent is a common requirement for hair stylist school admission. However, in cases where younger students are allowed to enroll, schools may ask that students have at least completed 10th grade.
3. Plan to live in the same state as your school.
While this isn't a requirement per se, it's important for you to remember that licensure requirements vary by state, so whatever school you attend is likely to prepare you to pass that state's exam in particular. If you want to enroll in a hair stylist school in a state other than the one in which you plan to work, you should do significant research on licensure reciprocity agreements between states before proceeding.
4. Tour the school and speak with a school representative.
Not all hair design schools require an in-person meeting before applying, but some do. Even when not required, you may want to schedule a meeting before submitting an application to get a feel for the program and see if it's a good fit for you.
5. Submit an admissions application.
Applications will look different for each hair stylist school, but you should plan on filling out an application form; paying an application fee; providing personal information, including a government ID and social security number; and submitting official high school transcripts or other proof of education. You may also have to write an essay, take a basic competency exam, include a headshot, or pass a background check.
6. Speak with a financial aid officer.
Hairdresser schools want to make sure their students can pay for their training, so it's common to have to meet with an advisor and get financial aid sorted before you enroll in a program.
How Long Does It Take to Complete a Hair Design Program?
Hair stylist school typically takes 12 to 24 months to complete, but some programs can be completed in as few as 6 months. Before choosing a program based on estimated completion time, you should make sure the school is approved by your state licensing board and that the program's outcomes align with your career goals.
Hairdresser school completion times not only vary between programs but can also be affected by requisite practice and clock hours as well as a student's schedule outside of school. Students usually have to put around 1,500 to 2,000 hours into their hair stylist courses and training. A student who can attend hair design school full-time will generally be able to complete their program faster than a part-time student. Factoring in extracurricular obligations can help you accurately gauge how long it will take for you to finish school.
How Much does Hair School Cost?
According to the American Association of Cosmetology Schools, hair stylist school tuition generally costs around $10,000. Tuition usually isn't the only cost of hair stylist school, however. You should also factor in the cost of hair kits, textbooks, and other supplies.
These additional costs bump the average price of attending hair design school to somewhere between $10,000 and $20,000. You may be able to offset some of these costs through financial aid, which may be offered through your school or through beauty industry professional associations.
Hair Stylist Courses and Training
In cosmetology schools students typically undergo training in hair styling, nail technology, and makeup. A school's hair styling curriculum should cover basic training, including using essential tools, shampooing, sanitation, anatomy and physiology, and safe chemical use. Hairdressing school also dives deeper into specific elements of hair styling, so you can expect courses in trimming, shaping, cutting, and using electric styling tools. Curricula often include training in practical chemical application and hair treatments, which covers weaves, perms, curl-relaxing treatments, coloring, bleaching, and scalp treatments.
During your hair design training you will also learn about salon management, hygiene, and interpersonal relations. In these courses you will gain knowledge and practice in first aid, business ethics, marketing and merchandising, personal hygiene, customer relations, and laws of the profession.
Before enrolling in hair school you should look at each school's curriculum to make sure you will learn the skills you want and need for state licensure. It's also important to make sure that your hair stylist school is accredited—designated by an official body as meeting certain quality standards—and approved by your state's cosmetology licensing board. The National Accrediting Commission of Career Arts & Sciences is the organization in charge of accrediting cosmetology schools in the U.S.
To further narrow down your hair school choices, you can compare graduation rates and talk to advisors about job placement assistance and financial aid opportunities at each school.
Training Hours/Apprenticeships
In addition to in-class hours, you need to gain hands-on experience. State licensing boards determine how many training hours are required to gain a hair stylist license, but it's typically around 1,500 hours. Under the supervision of an experienced stylist, you will spend your training hours applying what you've learned in class in more practical settings.
Practice hours not only allow you to develop and hone shampooing, cutting, styling, and coloring skills but also practice following safety procedures, consulting with clients, booking appointments, and maintaining your workspace. Training hours also give you a chance to connect with, observe, and ask questions of experienced hair designers.
Hair stylists' training hours are often incorporated into the hair styling curriculum and can be completed at your cosmetology or hair design school. You may be able to complete your practice hour requirements through an apprenticeship or externship at a state-licensed salon. Before beginning an apprenticeship, you should check with your training program and your state licensing board for approval.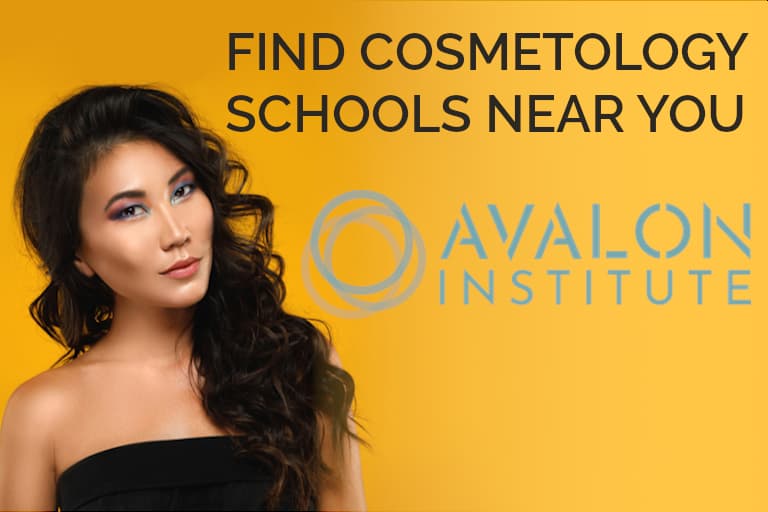 sponsored content, school availability varies by location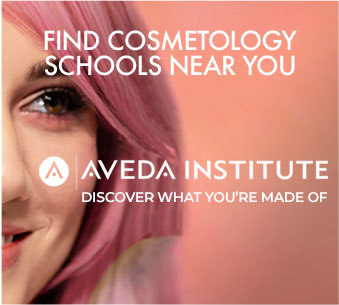 sponsored content, school availability varies by location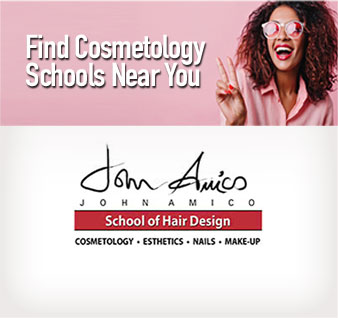 sponsored content, school availability varies by location

sponsored content, school availability varies by location

sponsored content, school availability varies by location

sponsored content, school availability varies by location
Getting Your License
To become a licensed hair stylist you must pass an exam administered by your state licensing board. Each state has different requirements for examinees, but it's common for the hair design licensing exam to be in two parts: a written exam, often administered at a testing center via computer, and a practical exam in which you demonstrate your competencies in a range of essential hair styling skills.
In applying for a cosmetology license you will have to prove your skills in all areas of cosmetology, not just hair styling, so double check to see if your state offers licensure exclusive to hair design, cosmetology, or both, and determine in advance which license you will pursue.
Before you can register for these exams, you must complete an approved training program and hands-on hours. You must also pay a fee for your exams upon registration.
Hair Design Articles
Commercial Career